Course Maps
Swim course (950m, 1.9km, 3.8km)
The Course Route will be confirmed nearer the to the event time.
Bike course (45km, 90km, 180km)
The 180km ride is a four-lap undulating course and two laps for the 90km ride. 45km participants will complete one lap.
The courses are undulating with two 'good climbs' to test the riders – both are achievable though and nothing to fear! The ride starts and finishes at the University of Wollongong, Shoalhaven Campus. By starting and finishing the race in Nowra allows for a very scenic bike ride and also relieves any road congestion in Huskisson.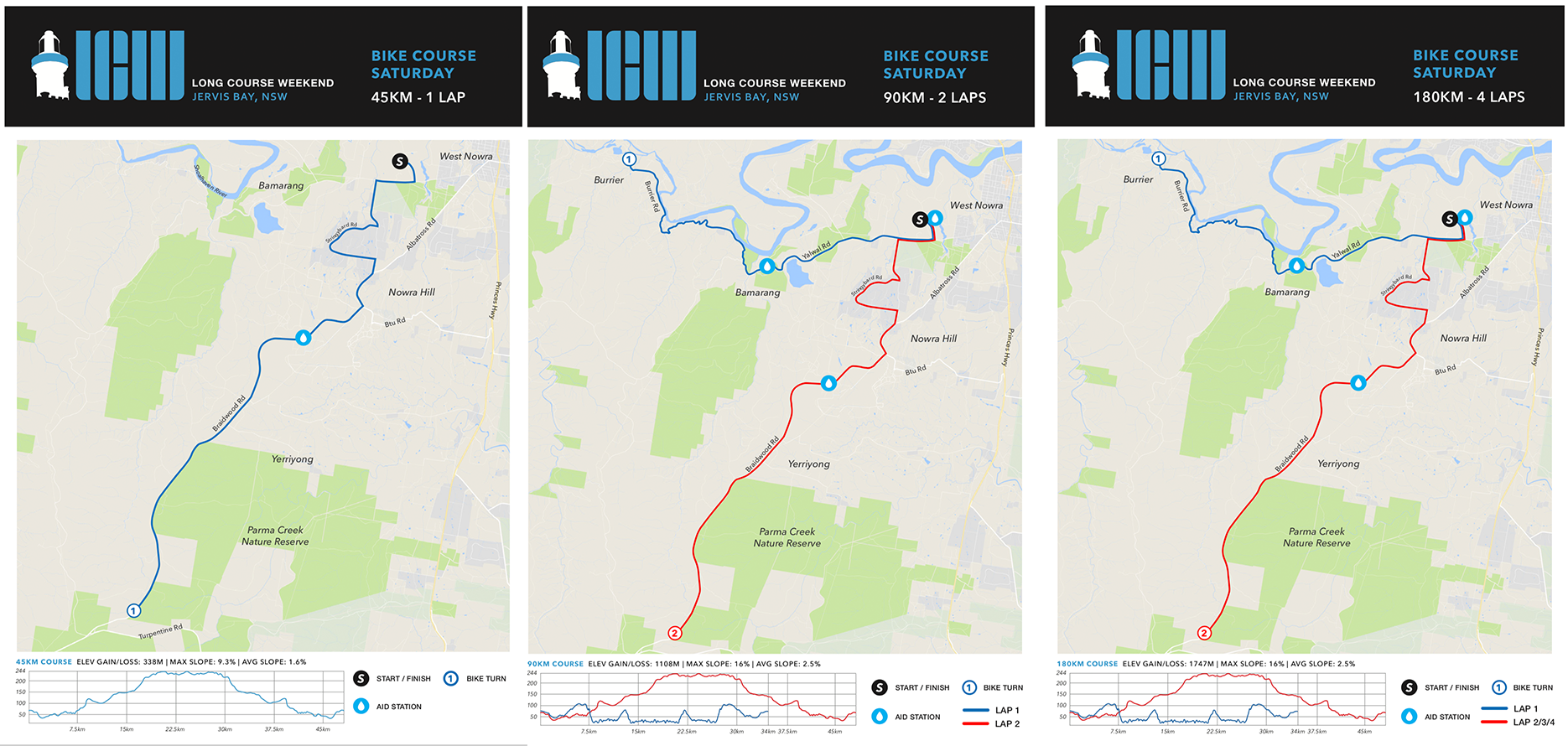 Cut off applies to the longest distance (180km) and is 8 hours
Key Notes regarding Bike Rules:
Riders using Aero Bars: All riders using aero bars will start their race wave first leaving the start area 5-seconds apart. Riders will line up behind the start line in number order and will leave when instructed by the race director.
Riders must maintain a distance of 7 meters from the back wheel of ANY rider in front of them when they are in the aero position. If riders with aero bars decide to ride within a group (because of fatigue or if a faster group passes them) they MUST NOT be on their aero bars at any time. Riders found to be on their aerobars within a group or if they break the 7 meters draft zone will receive a Blue Card and receive a 5 minute penalty to their times. Three Blue Cards results in a disqualification. Dangerous riding will result in a Red Card disqualification.
Riders without Aero Bars: Riders without aero bars will start as a group at their advertised time. They will leave the start area in groups of 20. Riders are NOT permitted to ride more than two abreast at all times – breaking this rule will result in a Red Card to the offending rider and the rider will be disqualified. Dangerous riding will result in a red card disqualification.
Note all riders: All riders MUST obey the road rules! This event is based around a Grand Fondo and requires all riders to ride safely and within the limits of normal road rules. A rider must not ride more than two abreast and cross middle white lines on the road at any time. While riding on roads without markings all riders must stay to the left. Please stay as close to the side of the road (the shoulder of the road) as possible. Although roads are closed, local traffic may be on the road as well as event vehicles. Ride safely and within your limits.
Run course (5km, 10km, 21.1km, 42.2km)
The run leg of the marathon is three laps and mainly flat following the beautiful coastline along Jervis Bay. The half marathon will be two laps while the 10km and 5km events will be out and back courses.
The run will finish in the same area as the swim leg which doubles as the main arena/expo area.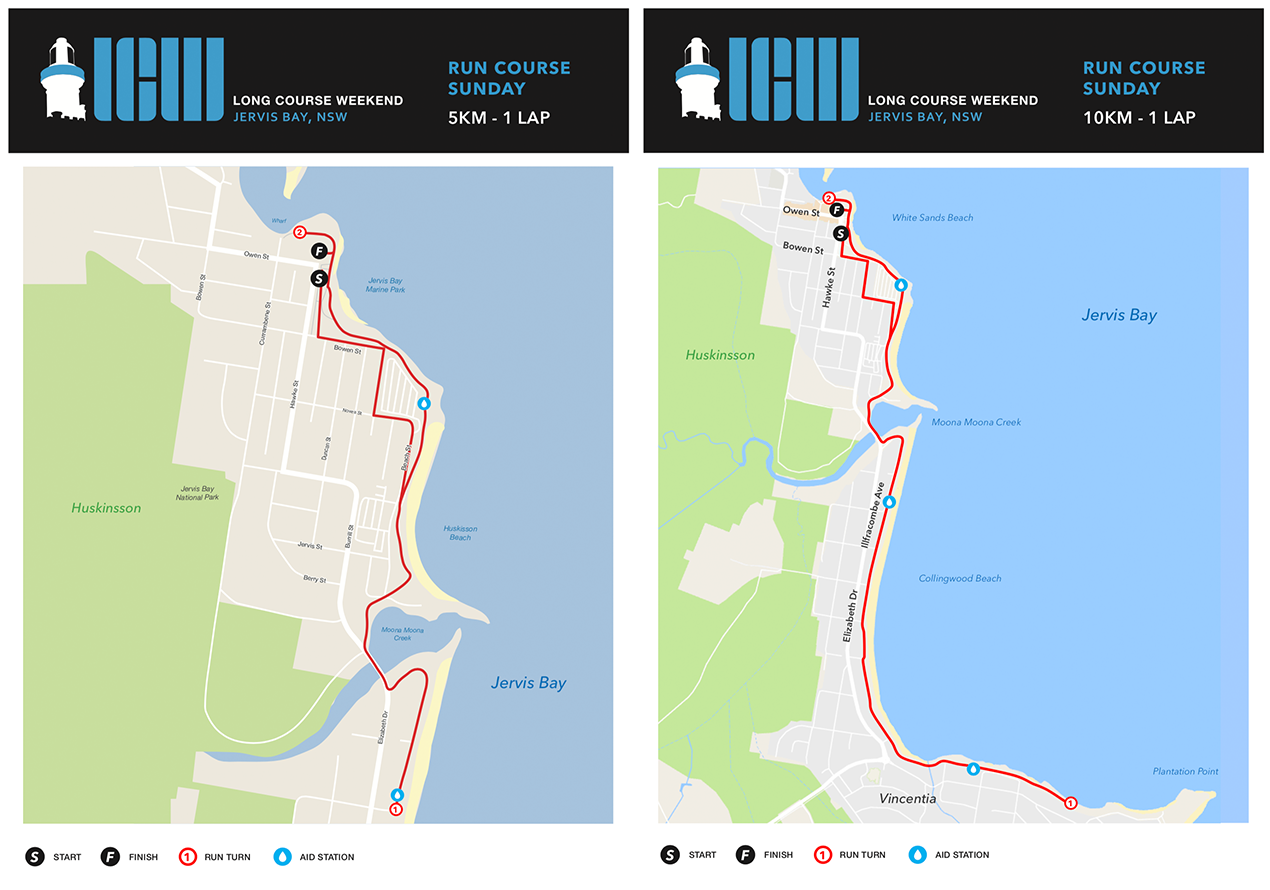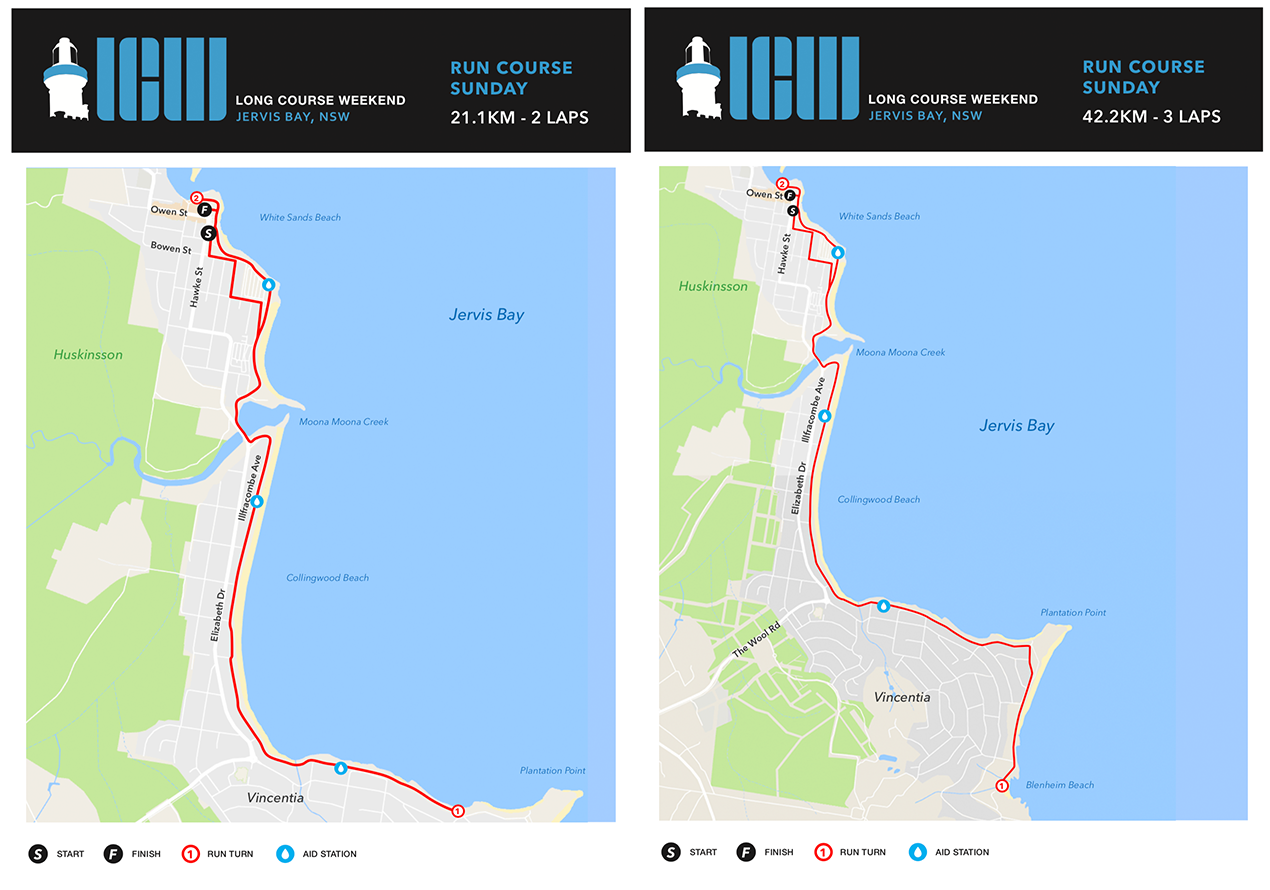 Cut off applies to the longest distance (42.2km) and is 6 hours